Kawaguchi Office, Nakagawa Chemical Equipment Co., Ltd. (NCE Kawaguchi Office)

Regularly scheduled inspections of wastewater treatment equipment are extremely important for ensuring the continuing, safe operation of customer's facilities. NCE Kawaguchi Office (NCE Dedicated Maintenance Operations) handles maintenance-related tasks for equipment installed by NCE.
Wastewater Treatment Equipment Maintenance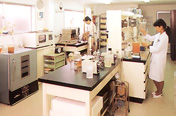 At NCE, we believe it is our responsibility to ensure our equipment and plants exhibit satisfactory performance.
Our commitment to responding quickly even to unexpected emergencies has been beneficial to our customers.
In addition, we have utilized our wide range of know-how in the inspection, repair, maintenance, improvement, and cost-cutting of wastewater plants from other companies.
Location
5-13-27 Kami-aoki, Kawaguchi, Saitama Prefecture 333-0844
TEL:+81-48-268-7471
FAX:+81-48-268-0210

Message from the President|Corporate History|Flow|Access Map|ABOUT BRANCH
NCE Kawaguchi Office