Message from the President
In Pursuit of Clean Waters and Blue Skies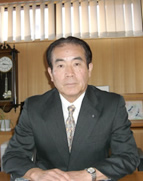 The world is taking an increasing interest in the problems causing "global-scale destruction of our natural environment", including depletion of the ozone layer, pollution of rivers and oceans, destruction of tropical rainforests, desertification and global warming.

Nakagawa Chemical Equipment (NCE) was originally founded based on the pursuit of "clean waters and blue skies," and since then we have continued to provide "technologies to help protect our natural environment". Take plating plants, for example: the wastewater generated by these plants contains cyanide, hexavalent chromium, heavy metals and other substances that are harmful to human beings, but wastewater treatment plants are capable of cleaning this water and rendering it harmless—this is NCE's strongest area of expertise.

We have continued to expand our business activities based on 50 years of achievements in the wastewater treatment field while responding to customer needs, and we develop water purification equipment and other such products in a quest to serve as a manufacturer specializing in water treatment.

NCE is a water treatment equipment maker and comprehensive planner handling everything from design to manufacturing, installation, and maintenance, contributing to numerous industrial fields and industries including plating, coating, electronics, food products, printing, chemical products and more. Furthermore, we diligently develop and deliver new technologies one after another for various types of equipment utilized in plants.

While continuing to offer a full range of maintenance-related services, NCE has also expanded beyond water treatment equipment into the design and construction of manufacturing equipment and plants for surface finishing and other fields. We have received high praise from customers, and the number products we deliver in Japan and other countries around the world continues to increase.

We will continue making every effort to cherish both water, an essential element of life, and Mother Nature, while further refining our environmental technologies to deliver products that please our customers. NCE strives to contribute toward value and creation in a recycling-oriented society in which nature, corporations and people coexist in harmony.
Takeshi Nakagawa
President

Message from the President|Corporate History|Flow|Access Map|ABOUT BRANCH
NCE Kawaguchi Office