PRODUCTS
With the focus on wastewater treatment equipment, we undertake everything from development to design, manufacture, installation, and maintenance services for ion-exchange water purifiers, reverse osmosis (RO) purifiers, surface finishing equipment and more.
If you have any questions about the NCE products or facilities introduced here, please feel free to contact us. We also develop other types of chemical equipment and facilities not shown here, so, please contact us first for further details.
Wastewater Treatment Equipment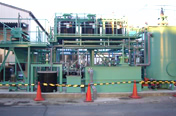 We provide a full lineup of wastewater treatment equipment for use in a broad range of industries and fields including surface finishing, food products, building construction, electronics and more.
At the research facility in Kawaguchi, we research on various types of wastewater treatment technologies in order to develop cutting-edge treatment methods.
Wastewater Treatment Equipment
Ancillary Wastewater Treatment Equipment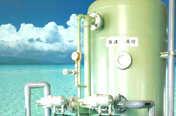 Installation of rapid filtration towers and activated carbon adsorption towers in wastewater treatment facilities enables more advanced treatment operations.
These types of equipment are necessary to meet regulation values for BOD, COD and other organic compound indicators.
Ancillary Wastewater Treatment Equipment
Filtration Equipment for Dewatering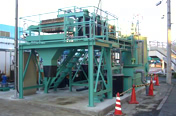 Dewatering equipment for sludge treatment varies depending on the wastewater treatment method.
Various types of equipment is available, including filter presses for handling inorganic sludge, and belt presses and screw presses for treating organic sludge.
Filtration Equipment for Dewatering
Sludge Dryers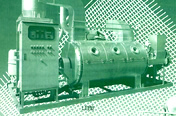 Sludge and dewatering cakes produced by wastewater treatment equipment can be dried in order to reduce volume using our sludge dryers.
This series of dryers developed by NCE can remove enough water to bring sludge water content down to around 30%, reducing sludge to between one-third and one-fourth of its original volume (and weight).
Customers can count on NCE equipment as an effective measure against steep annual increases in industrial waste processing costs.
Exhaust Gas Treatment Equipment
Various acidic and alkaline gases are produced during processes utilizing surface finishing equipment, making our gas treatment equipment vital for improving the working environment, maintaining equipment and ensuring long equipment service lives.
Our products effectively treat toxic gases or odors, with more through water washing and alkaline agent washing to neutralize emissions before release into the air.
Exhaust Gas Treatment Equipment
Surface Finishing Equipment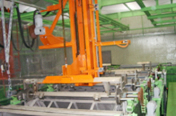 We offer a full lineup of surface finishing equipment to meet a wide range of customer needs, including plating equipment, anodization equipment, bonderizing treatment and more.
We make expert use of advanced technologies such as touch-screen control as well as new design features to reduce energy use, while also realizing low running costs and high reliability in our more standard products.
Through stable, reliable productivity and high investment returns, we can help your company come out on top amidst intense competition.
Water Purification Equipment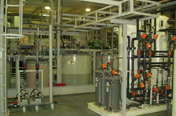 This equipment is used to produce pure (demineralized) water, which is essential in washing as a part of metal finishing processes because it prevents the formation of spots and adhesion of hardened portions on the product while maintaining and improving quality.
The choice between purification methods such as ion-exchange and reverse osmosis (RO) depends on intended usage and conditions, such as product washing treatment process, water purity, washing method, etc.
NCE can design and manufacture equipment to meet your specific requirements. Furthermore, we have already established a varied lineup of equipment, enabling us to draw up a plan optimized to the conditions you provide us with.
Wastewater Treatment Chemicals
NCE offers special wastewater treatment chemicals to remove heavy metals contained in wastewater.
We have developed numerous products in accordance with advances in plating and coating technologies.
Wastewater Treatment Chemicals