Surface Finishing Equipment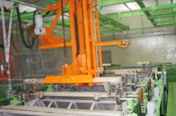 NCE's surface finishing equipment utilizes the latest technologies, and we are capable of handle everything from proprietary design to manufacturing, assembly and trial operation all while maintaining short delivery times. Fully-automated line operations as well as semi-automated and manual manufacturing operations are all possible, making these products ideal for high-mix, low-volume production.
Anodization Equipment

Anodization surface treatment for aluminum is used to increase its corrosion and wear resistance, and it can also be applied for decorative purposes. The surface coating is known as an "oxide film."
Bonderizing Treatment

This equipment is used for bonderizing, which is a treatment utilized in cold forging processes to create a lubricated surface coating that eliminates frictional resistance between the formed parts and die wall surface.
Plating Equipment

Our plating equipment is manufactured according to usage. We utilize proprietary technologies and include carrier-type, elevator-type and other types of electronic operation control to enable high-mix, low-volume production that can meet a wide range of customer needs.