Exhaust Gas Treatment Equipment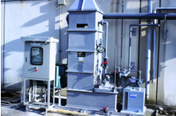 Technologies for bringing levels of exhaust gas emitted by waste treatment equipment down to regulation levels has become very important from a corporate compliance standpoint. We hope customers will utilize Nakagawa Chemical Equipment (NCE) treatment equipment to make toxic gases and strong odors be treated safely. Showering of gases taken into the tank with absorbing liquid provides a reliable way to treat for hazardous substances and smells.

Major reductions in power supply requirements
We use Sirocco fans to achieve high airflow volumes, high static pressures and energy-efficient operations.
Compact design
We successfully reduced the main unit size through enhancement of fan performance, enabling a greater variety of installation space options.
Improved corrosion resistance
We used PVC (polyvinyl chloride), which boasts high corrosion resistance, as the material for the main unit, fan and circulating pump.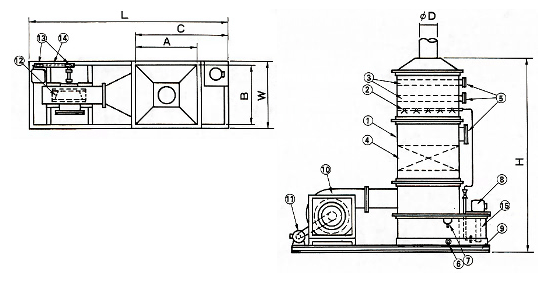 Applications
Plating equipment
Semiconductor manufacturing equipment
Elimination of hazardous substances and odors in exhaust gases generated by wastewater treatment equipment
Specifications
Usage Precautions
NCE scrubbing tower chemical fans are made using PVC, a material with excellent corrosion resistance. If the user adheres to the following precautions, the product will achieve satisfactory performance.
This product was designed with sufficient strength to operate under normal conditions without any problem. However, due to the properties of materials used, the product is relatively weak against strong impacts. Please refrain from striking the product or handling it in a rough manner.
Due to material property characteristics, product strength will deteriorate if the gas temperature reaches 50°C (122°F) or higher. When using the product in a high-temperature environment, please mix air in with the gas or cool the gas before sending it to the tower.
Because PVC has low abrasion resistance, users should avoid using gases containing large quantities of dust. In addition, please consult NCE first before attempting to increase the product's fan speed.
Information to Confirm When Contacting NCE
When contacting NCE with a question or order, please inform us of the following data as well as any other information that is relevant to the operating environment.
Airflow (m3/min.)
Static pressure (mm Hg)
Gas handled (type, concentration, specific weight)
Usage temperature (inlet temp.)
Usage (ventilation/exhaust/airflow, presence or lack of mixed-in dust or mist)
Discharge direction and rotation direction
Motor (type, output, frequency, no. of poles, voltage)
Power transmission method (v-belt drive / motor direct drive)
Attachments/accessories (companion flange, bearing hood, motor cover)