Filtration Equipment for Dewatering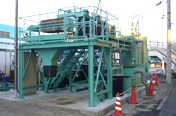 Slurry dewatering during the wastewater treatment process is a vital step in sludge volume reduction. The following Nakagawa Chemical Equipment (NCE) dewatering equipment is utilized for a wide variety of purposes in fields including food products, chemicals and chemical products, the steel industry and elsewhere. All of NCE's products have a well-established reputation for high dewatering capacity, and their solidification capabilities are nothing less than excellent.
Manual Filter Presses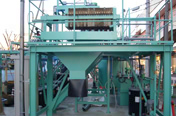 These products dewater slurry contained in wastewater. By using numerous enclosed filter plates, they efficiently separate water and sludge into liquids and solids to enable more efficient industrial waste processing.
Fully Automated Compact Filter Presses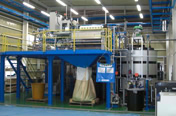 Our fully automated compact filter press equipment boasts 0.7 MPa of compressive strength, making it possible to produce low-water-content filter cakes from high-viscosity slurry.